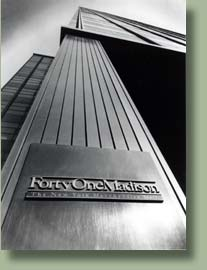 Located in the heart of the Table Top industry, our 41 Madison Avenue Event Center is bordered by New York's trendiest restaurants to the east and coolest shops and boutiques to the west. This Digital Sandbox events' facility is an artful blend of romance, commerce, and technology.
Sited within the New York Merchandise Mart, our 7,000 square foot event center offers a flexible and accommodating floorplan. From the smallest groups or up to 225 people, the 41 Madison location has hosted marketing / trade meetings, training conferences, and social gatherings for local, national, and international clientele.
The space is fresh and inviting, yet it is fully supported by the technology which Digital Sandbox Network Event Centers are known and trusted for. Book your next event at a location which offers the best of New York without the stress – the Digital Sandbox Network Event Centers: where technology and creativity meet.